PTAS & PTA Presale & Airdrop in PinkSale.finance
If you are Crypto Tokens Lover then you will enjoy reading this press, because from 19th September to 3rd October 2022 PinkSale will give you the opportunity to participate in a great Crypto Token Presale (PTAS) with a Free Airdrop (PTA). After the countdown counter of the ICO page arrives to zero, it will be possible to buy PTAS tokens (Ethereum blockchain) just starting from 10 USD dollars. If the minimum investment done is over 100 usd dollars the buyer will receive also an extra 10% PTA tokens airdrop (Binance Smart Chain Blockchain).
Here you find the direct link of PTAS Token Presale & PTA Airdrop: https://www.pinksale.finance/launchpad/0xD87D241213a7d72CB5C3CD06E074396aDBE61Cb3?chain=ETH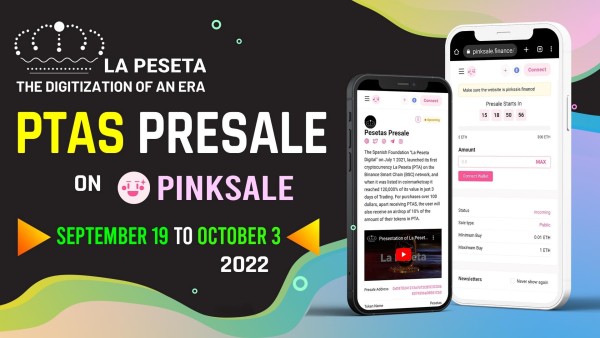 The innovative idea to add an extra airdrop to a token presale is really new because in this case a buyer can participate in 2 crypto projects just investing only in one. The story of the Pesetas Spanish tokens is very interesting: On October 19th, 1868, the peseta (PTA & PTAS) was born in Spain as a monetary unit by decree of the Spanish Provisional Government after the overthrow of Queen Elizabeth II. The peseta (PTA & PTAS) has been the official currency in Spain for 134 years until in 2002 it gave way to the Euro. On December 31, 2020, it ceased to be exchanged for euro and as of mid-2021 it ceased to exist completely. The Spanish Foundation "La Peseta Digital" (www.peseta.finance) on December 17th, 2021 launched its first cryptocurrency La Peseta (PTA) on the Binance Smart Chain (BSC) network, which reached 120,000% of its value in just 3 days of Trading. (That means whoever put in 10 usd withdrew 12,000 usd at its peak.)
Video Link: https://www.youtube.com/embed/VjSz09RSakI
The PTA and PTAS tokens are 100% tradable with zero fees.
These tokens allow you to make trade, purchase and sale transactions in BSC and Ethereum network without incurring any expense. (0,1% Slippage). In PinkSale ICO, 50% of the PTAS Tokens will be put up for sale. At the end of the ICO tokens not sold will be burned (to assure the final value). The minimum purchase is 10 dollars and the novelty is that for purchases over 100 dollars, apart purchasing PTAS, the user will also receive an airdrop of 10% in PTA. Example: if you buy 2,000,000,000 PTAS, you receive 200,000,000 PTA in airdrop. In the same way and during the same period of time (from 9th of September to 3rd of October) any holder who buys more than 100 dollars in PTA (it is actually traded in PancakeSwap) will receive a 10% airdrop of PTAS tokens.
Once the PTAS ICO is finished and the Liquid Pool has been created, CoinMarketCap will publish the official launch date of PTAS token and trading will officially start. If PTAS token follows similar steps of PTA launch (it was lunched 17th December 2021), its price will probably increase between 500 and 1000 times its initial value. (The first PTA token reached a 120.000% of its original price with 114 million dollars trading during the first days. You can read about this new in many important digital press websites searching in Google).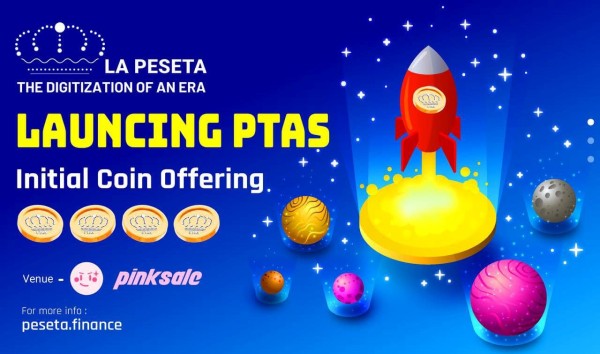 Finally, part of money raised from the PTAS ICO will be also invested in new software developments and Marketing campaigns to introduce the tokens in more exchanges such as LBank, kuCoin, etc. (for more information please check the PinkSale link we shared in this press). Do not miss the opportunity to invest now in PTAS and PTA crypto tokens because over time their use will become massive and they will also become a refuge for great world capitals, as it happens today with many other renowned cryptocurrencies.
Marco Musumeci
DEFI & DAO B2B Consultant
www.musumeci.es
Media Contact
Company Name: La Peseta Digital
Contact Person: Luis Miralles
Email: Send Email
Country: Spain
Website: https://www.peseta.finance/