Ceramic Armor Market Is Projected To Register 7.2% CAGR Till 2025, Based on Increasing Terrorist Activities And Military Modernization Programs Globally | Grand View Research, Inc.
According to a new report published by Grand View Research, increasing threat of hard – tipped shield – piercing rounds and higher energy projectiles is likely to influence the ceramic armor industry demand.
Ceramic Armor Industry Overview
The global ceramic armor market size was valued at USD 1.75 billion in 2017 and is estimated to reach USD 3.04 billion by 2025, presenting a 7.2% CAGR during the forecast period.
Military modernization programs across the globe and focus on soldier survivability are key factors driving industry growth. Defense sectors across the globe invest heavily in novel armor materials such as ceramics, which provide superior ballistic performance. In the defense and security sector, ceramics form an integral part of modern armor systems. Their high usage is attributed to improved performance and comparatively lower weight during ballistic scale impacts. Growing threat of hard – tipped shield – piercing rounds and higher energy projectiles is likely to influence market demand.

Gather more insights about the market drivers, restrains and growth of the Global Ceramic Armor Market
Rise in military warfare is stimulating the need for ballistic protection systems for safeguarding military forces. Countries across the globe are focusing on replacement of legacy military vehicles and are subsequently increasing their defense spending. Such modernization initiatives are creating opportunities for industry participants, resulting in increasing number of alliances with defense agencies. Moreover, rising focus on soldier safety and soldier survivability is boosting demand for modular tactical vests and double – sided combat uniforms. Advancements in ammunition and weapon systems are leading to increased demand for more effective solutions.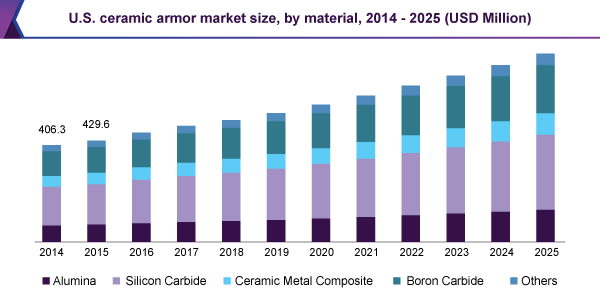 A primary concern associated with law enforcements for the military sector is ensuring protection against high – velocity impact. Advanced ceramics are the heart of the modern shielding gear owing to their characteristics such as high performance during ballistic – scale implications and low weight. Ceramics can be considered as a better alternative to steel to achieve performance requirements of body armors. Ceramics have greater advantages in terms of weight and design flexibility. A basic ceramic composite armor system is nearly half the weight of a similar steel – based variant. It also offers resistance to creep and stress rupture at a temperature of up to 16500 C. All these advantages are increasing the importance of ceramic as a material.
The industry is expected to witness key innovations over the projected period owing to rising focus of manufacturers on designing body armor with enhanced features such as survivability, lethality, sustainability, and mobility. Increasing terrorist activities in various countries are anticipated to spur market demand over the forecast period.
Ceramic Armor Market Segmentation

Based on the Platform Insights, the market is segmented into defense, homeland security and civilians
The civilian segment is expected to witness significant growth over the forecast period. Governments across regions are considering passing laws on the use of body armor by civilians, owing to increasing terror attacks and public mass shootings.
The defense sector accounts for the largest share in the ceramic armor market as the material finds wide application in the defense sector, for protection of soldiers, vehicles, and building infrastructure.
Demand from homeland security is primarily driven by increasing levels of violence in major parts of the world. Ceramic is used in body armors to provide protection to firefighters and rescue teams against unprecedented attacks and violence.
Extensive research carried out on ceramic materials has proven that they are capable of stopping bullets. They are also much lighter than the conventionally – used steel in body armors, which increases a soldier's maneuverability in the field and prevents health issues associated with carrying heavy equipment.
Based on the Material Insights, the market is segmented into alumina, silicon carbide, ceramic metal composite, boron carbide and others
In 2016, alumina dominated the market in terms of revenue as the material is widely used by armor manufacturers. Alumina provides cost – benefit ratio, which features high refractoriness, high modulus of elasticity, and high hardness. Boron carbide is primarily used in ceramic plates, which are used in armored helicopters and body armors to protect against smaller projectile.
Stringent regulations have been laid down for the use of armor materials owing to their criticality of operations. Design and performance standards are governed by various regulatory authorities. For instance, in the U.S., the performance of materials used for armors is subject to compliance with standards given by the National Institute of Justice (NIJ).
Demand for lightweight, comfortable, and improved protection material is driving the overall market.

Based on the Application Insights, the market is segmented into body armor, aircraft armor, defense armor and marine armor
Increasing defense spending and extent of militarization in major countries of the world have stimulated demand for high – performance products and materials. Defense agencies are focusing on enhancing their capabilities owing to increasing cross – border instability and war – like situations.
In 2017, the defense segment dominated the market in terms of revenue and is estimated to retain its dominance over the forecast period owing to high demand for advanced ceramic armor in defense applications. Moreover, focus on soldier safety and soldier survivability is boosting demand for modular tactical vests and double – sided combat uniforms. Advancements in ammunition and weapon systems are leading to increased demand for efficient solutions.
The body segment is expected to register the highest growth, attributed to demand for the same from homeland security departments across the globe. In U.S. and Europe, there is an increasing trend of providing body armor to first responders such as firefighters, police officers, and Emergency Medical Service (EMS) personnel.
Based on the Regional Insights, the market is segmented into North America, Europe, Asia Pacific, South America, and Middle East & Africa
The U.S. is a major contributor to the North American regional market due to heavy investments in the military and defense sectors. North America is home to several ceramic armor companies, which enables them to gain a competitive edge over companies operating in other regions.
In Europe, market growth is attributed to high demand for lightweight material, increasing focus on soldier survivability, and high demand for body armors for first responders. The German government is boosting spending on modernizing its defense and security forces, which, in turn, is supporting market growth. As per its federal budget planned till 2020, the country is set to spend USD 43.9 billion on the modernization program.
Demand in Asia Pacific is anticipated to grow remarkably over the forecast period owing to increasing cross – border disputes and terrorist activities. China, South Korea, Pakistan, and India are prominent countries in the APAC regional market. China is also modernizing its aviation forces and air defense units. Rising need for strong but lightweight material to enhance its capacity is expected to support market growth.
Market Share Insights:
March 2018: China released a budget document to media, revealing that China intends to increase its military expenditure by 8.1% in 2018 to support modernization of its armed forces.
March 2018: Ceradyne Inc. received an order worth USD 34 million from the U.S. army for the continuous supply of Integrated Head Protection Systems (IHPS) ballistic helmets. This investment increased the company's IHPS contract value to over USD 52 million.
Key Companies Profile:
Industry players are focusing on new product development and investing in R&D to develop performance products and stay ahead of the competition. Vendors also form contractual relationships with defense agencies for long – term product supply.
Some prominent players in the global ceramic armor market include
Ceradyne (U.S.)
SAAB AB (Sweden)
ArmorWorks (U.S.)
CeramTec (Germany)
CoorsTek Inc. (U.S.)
Koninklijke Ten Cate BV (Netherlands)
M Cubed Technologies (U.S.)
Olbo & Mehler (Germany)
Safariland LLC (U.S.)
Order a free sample PDF of the Ceramic Armor Market Intelligence Study, published by Grand View Research.
About Grand View Research
Grand View Research is a full-time market research and consulting company registered in San Francisco, California. The company fully offers market reports, both customized and syndicates, based on intense data analysis. It also offers consulting services to business communities and academic institutions and helps them understand the global and business scenario to a significant extent. The company operates across multitude of domains such as Chemicals, Materials, Food and Beverages, Consumer Goods, Healthcare, and Information Technology to offer consulting services.

Web: https://www.grandviewresearch.com
Media Contact
Company Name: Grand View Research, Inc.
Contact Person: Sherry James, Corporate Sales Specialist – U.S.A.
Email: Send Email
Phone: 1888202951
Address:Grand View Research, Inc. 201 Spear Street 1100 San Francisco, CA 94105, United States
City: San Francisco
State: California
Country: United States
Website: https://www.grandviewresearch.com/industry-analysis/ceramic-armor-market