Sportemon-Go Revolutionises The 'NFT' Space – Underpinned By Pickstar
• Over 20 sports stars, legends and icons signed in a number of weeks
• Mat Rogers, Wendell Sailor, Adam Gilchrist, and Stuart O'Grady some of the big names signed up to lead NFT creations
• Could Sportemon-Go now be Australia's largest NFT creator and seller?
Sydney – Underpinned by Pickstar's marketplace platform, Sportemon-Go (SGO) has secured over 20 stars, legends and icons across many codes of sport for exclusive, personalised Non-Fungible Token (NFT) collectibles which will be hitting their marketplace over the coming weeks.
Mat Rogers, Wendell Sailor, Adam Gilchrist, Nova Peris and Stuart O'Grady are just a few of the big names to sign with Sportemon-Go in the last few weeks, to lead NFT creations.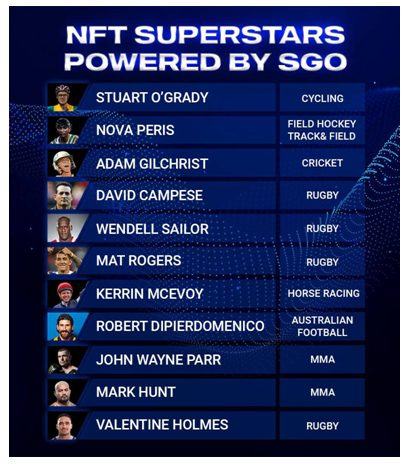 Sportemon-Go's success is largely due to the superfan product they are building, the utility of their token and the ongoing announcements of new sporting talent with imminent NFTs (nearly every day) to their 28,000+ token holders.
Since announcing the use of Pickstar earlier this month – Australia's largest marketplace for connecting high profile stars with brands and fans – Sportemon-Go's crypto token 'SGO' has skyrocketed to over a $US62M fully diluted market cap (as of time of writing).
"We are thrilled to play a critical role in the success of companies like Sportemon-Go in achieving rapid material success," said Loren Renton, Pickstar's Chief Growth Officer. "Pickstar is incredibly well-placed to provide crypto and NFT companies like Sportemon-Go with fast access to the stars that they need," added Renton.
In a matter of weeks, with over 20 of Australia's best in their pipeline, Sportemon-Go has swiftly become one of Australia's NFT heavyweights. But they're not stopping here, they're already making progress in the UK and USA.
"NFT's are revolutionising the sports digital merchandise, memorabilia and collectibles industry in the USA and Europe – and Australia is about to be put on the map. It's happening right now, it's not a fad and it's about to explode," added Renton.
Sportemon-Go's CEO and former AFL player, Ricky Jackson said SGO's NFTs are unique and game changing. "In a matter of months, we have developed the technology and creative diversity to transform the NFT space, both here in Australia and globally. Our Sport-NFTs are like nothing out there and we look forward to giving investors, collectors and superfans the ability to get their hands on our first releases over the coming weeks and months."
"The interest and eagerness from the stars to get involved in minting their personalised NFTs as well as the growing interest from brands and buyers absolutely reinforces that this next generation of sports-related assets is here to stay. And it's a thrilling space to watch and have the opportunity to be involved in," added Jackson.
Recently NFL Quarterback Patrick Mahomes sold out of his NFT collection called Museum of Mahomes in less than 30 mins for $3.7M. Two weeks ago, legendary NFL Quarterback Tom Brady dropped his inaugural NFT series and sold out instantly.
"It's big money for athletes and investors," added Renton. "Take a look at Brady's Ruby Signed Edition which was listed at US$1,500 and is now up for sale 11 days later for $97,000 on Draft Kings' marketplace. It's a whole new way to own and experience memorabilia and everyone wants a part of it."
Through Pickstar Group's technology as well as their private and public marketplace, NFT companies have global access to over 60,000 of the world's current and former professional athletes, icons and celebrities, allowing them to secure talent in record time for NFT opportunities. Its platform is designed to remove complexity for any type of business or brand needing direct access to high profile talent, enabling them to scale and accelerate. The same technology is used to power Pickstar's SaaS platform, VLAST, which is used by the world's best professional rights holders, leagues, teams and talent agencies to solve their problems by automating the activation of talent at scale.
Sportemon-Go is the brainchild company of father-son duo Ricky and Corey Jackson. Officially launching its crypto token (SGO) in June 2021, it has one eye set on digitising sporting memorabilia, moments and merchandise through designing and developing NFT collectibles and the other on redefining the entire sports fan experience through a fan engagement app.
NFT's are essentially a certified, unique digital asset and can be used to represent a finite number of items – such as photos, videos, audio, and other types of digital files.
ABOUT SPORTEMON GO
Sportemon Go was founded in 2021 by Ricky and Corey Jackson. With illustrious backgrounds in sports marketing and sporting software, the pair envisaged the creation of a platform to stand as a world premier in NFT augmented reality sports trading.
With a purpose to revolutionize both the gaming and NFT collectible industries, Sportemon Go will enable its users to hunt and collect NFTs of their favourite sporting heroes in both the real world and in real time. Creating the perfect synergy between our current world and the metaverse, participants will be able to interact at stadiums and sporting events like never before.
Sportemon Go is funded solely through its own cryptocurrency, a BEP20 token leveraging a smart contract on ChainLink'sBlockChain network. This native cryptocurrency will power the entire economy within Sportemon-Go's Platform allowing users to purchase NFT collectibles, form their ultimate team, participate in mini games, earn money can't buy rewards and much more.
Go to www.sportemongo.com for more information and to register for their upcoming NFT releases.
ABOUT PICKSTAR GROUP
Pickstar Group offers a simple, online Marketplace that helps people to connect with sports stars, celebrities and other 'humans of great achievement'. It's an end-to-end digital platform that enables the fast and effective booking of talent for guest speaking, brand ambassadorships, commercial deals and more.
Founded in 2017 by two former AFL athletes, James Begley and Matthew Pavlich, Pickstar Group has become the most trusted platform for facilitating paid talent engagements, large and small.
In addition to Pickstar's Marketplace, Pickstar Group offers VLAST, a tool created by players, for players. The tool offers talent and sporting bodies an easy and efficient way to manage all aspects of valuable talent appearances and activities. It improves the talent experience, reduces administrative costs, and removes human error. Ultimately empowering talent, agencies, brands, and rights owners to maintain and develop more meaningful relationships and appearances.
VLAST caters to the needs of the sponsorship, activation, and endorsement ecosystem. It offers a centralised dashboard providing automatic scheduling, messaging, and holistic overviews of the most important elements of activation.
With offices in Adelaide, New York and London, Pickstar Group's reach is truly global and with expansion into new star categories including chefs, media and wellness influencers, Pickstar can find a meaningful connection for any business and any opportunity.
Go to www.pickstar.pro for more information or to request any talent for an brand collaborations and commercial deals.
Media Contact
Company Name: SPORTEMON GO
Contact Person: Jackie Helliker
Email: Send Email
Phone: +61 412 405 761
Country: Australia
Website: www.sportemongo.com